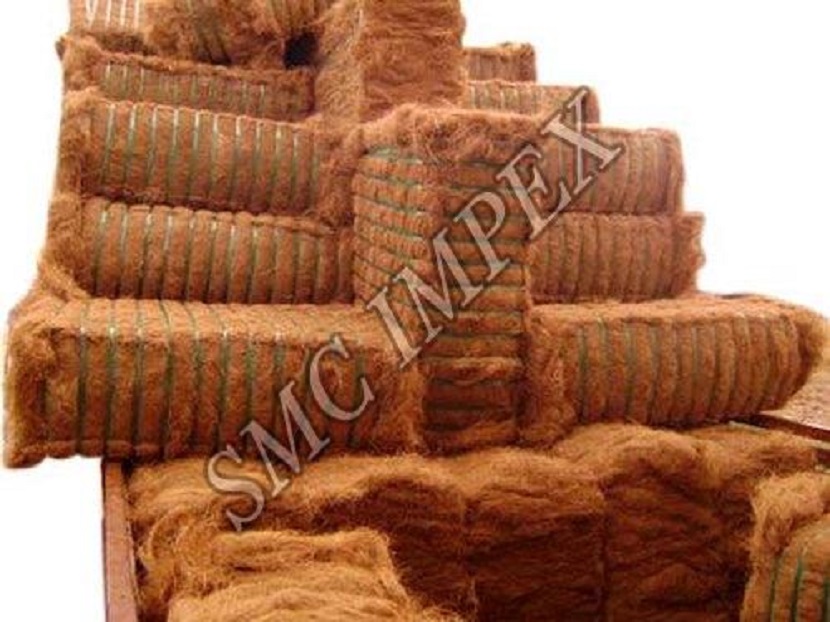 Coir or coconut fibre is an organic fibre that manufacturer extracts from coconut husk. This unique and natural fibre is useful for producing various several household products such as doormats, brushes, floor mats, and ropes. Coir is the fibrous part of a coconut's hard internal shell. One can get brown coir from a ripe coconut.
Brown coir is useful in sacking, horticulture, and padding. White coir comes from unripe coconut, and it is useful for making string, rope, and brushes. It has no sinking capability that one can use in the deep water.
Extraction Process of Coconut Coir
White fibre- white fibre is the immature part of the unripe coconut husk. Sometimes, an immature husk suspends in a water-filled pit. During this period, microorganisms break the tissues to lose them from the surrounding. Manufacturers beat the husk with iron rods to separate the long fibre in these segments. Cleaned fibre is now ready to pass through the spinning wheel.
Brown fibre- when manufacturers soak the fibrous husks in a slow-moving water body, it may soften the brown fibre. Manufacturers get the mattress fibres from underneath the skin of the coconut. After that, manufacturers dry this fibre in the sun and pack them into bales.
The Usefulness of Coir Fibre
The abundance uses of coir fibre are as follows-
Coir is useful for making rough mats. Coir, the natural fibre, is strong, which removes dirt from shoes. Coir fibre is useful for making outdoor mats. Brown coir fibres are useful for making several household brushes, such as brooms and toilet brushes.
White coir fibre is useful for making rope because of its flexibility and strength. White coir fibre has a strong resistance capacity to saltwater, useful for making marine ropes for boats and fishing nets.
Coir ply is a unique substitute for traditional plywood, a unique coir fibre, and resin. It has a plywood alternative that offers huge resistance. Coir ply has more temperature stability than traditional plywood.
Advantages of Coconut Coir
The unique advantages of using coconut coir in gardening are as follows-
Coir takes somuch time to decompose; thus, it lasts for a long time in the soil and provides sufficient moisture.
Coir can protect the tree from weed growth. It can control the production of weed.
Coir can increase the soil's natural pH level and increase the soil's fertility rate. One can mix coir with the soil before placing it in the pot. Due to its unique moisture retention capacity, coir can absorb 30% of more water than peat
Coir can improve the air porosity in the soil; thus, it can improve the moisture-retaining capacity of the soil.
It is easy to dry out the coconut coir when you use it for gardening. It is easier to re-wet and dry out. It can help plants to recover from dry situations.
Process OS Choosing Authentic Coconut Coir
when you decide to buy coconut coir, you may select SMC Impex company, one of the best coir fibre bales manufacturers in India. This company provides authentic and organic quality coconut coir at an affordable price. The quality and moisture retention capacity of the coconut coir of this company is outstanding. They supply authentic coconut coir to global customers. Contact this manufacturer if you want to buy coconut coir for gardening or other household applications.
From the above information, one can understand the usefulness of selecting an authentic coconut coir manufacturer for ultimate benefits.